ACORN Dental Clinic first opened its doors in 1987, operating out of a donated trailer on the ACORN Clinic property. Today the ACORN Dental Clinic is a modern full service facility with six dental chairs and a two chair oral surgery suite.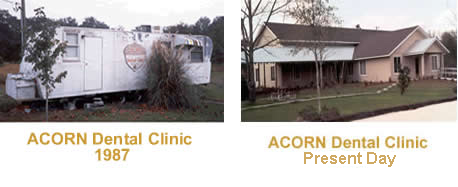 In 2017, the ACORN Dental Clinic served 2,167 patients in 4,982 visits.
ACORN Dental Clinic's practitioners offer a wide variety of dental procedures to ACORN Clinic patients.
In 2014, volunteerism totaled 8,156 hours valued at almost $900,000.
Our "Tooth Fairy" outreach program reached 2,311 children from preschool to 1st grade in 2014.
We also screened 126 Pre-K/Head Start children.
Dental Clinic Services
ACORN Dental Clinic provides comprehensive services including:
Dental exams and x-rays
Pediatric dentistry
Preventative care(Cleanings and sealants)
Restorative care(fillings and crowns)
Complete and partial dentures
Limited Endodontics
Outreach education to children in local schools and HeadStart centers
For more information, or to make an appointment, please call (352) 485-2772.